Whitebrick Healthcare Integration Platform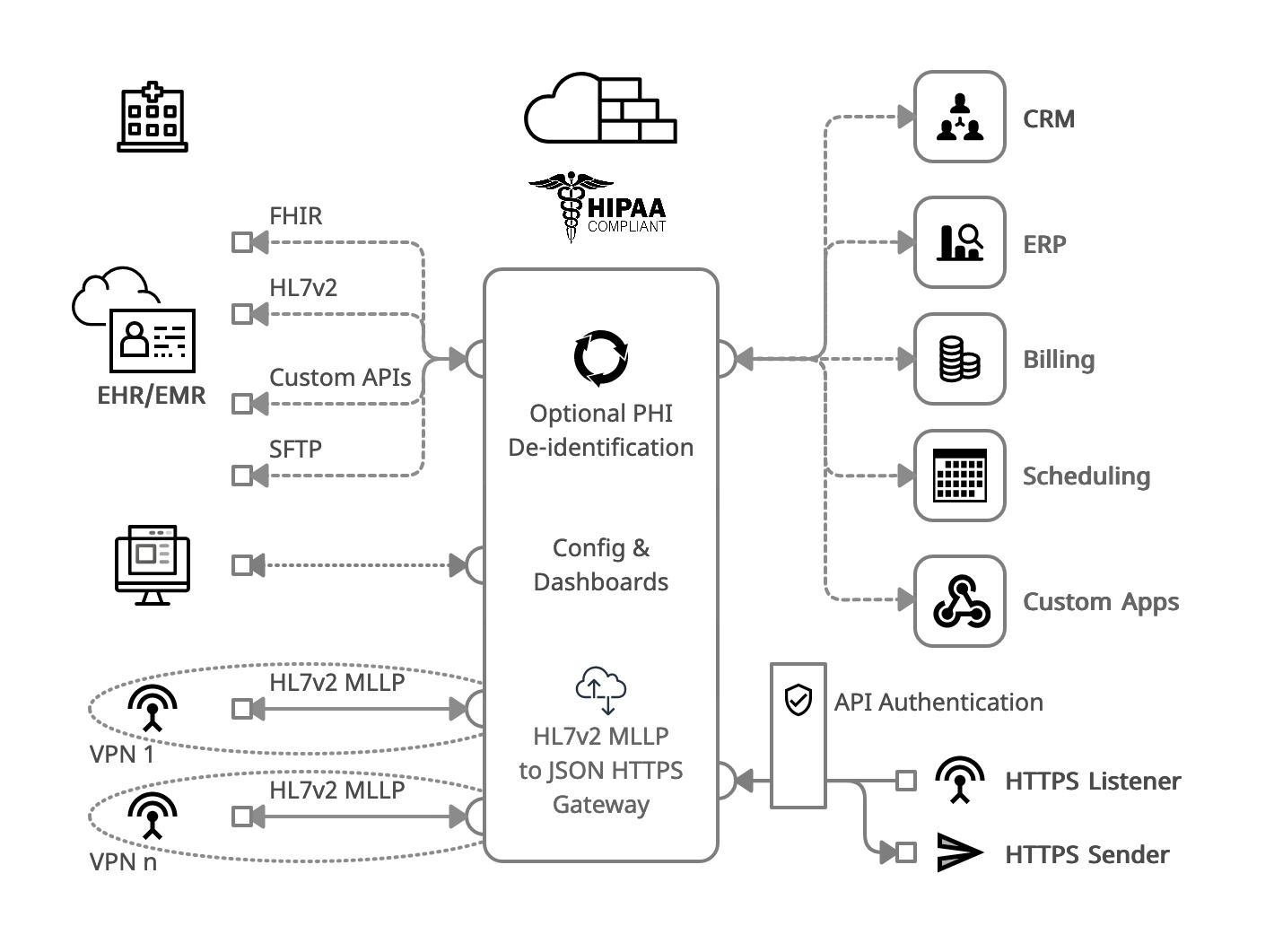 For Providers
The Whitebrick platform supports lightweight integrations between EHRs/EMRs and other software such as CRM, ERP, Billing and Scheduling systems.
What are "lightweight" integrations?
For example: a clinic wants to synchronize patient addresses between their EHR/EMR and CRM system.
Broadly speaking, we categorize lightweight integrations as having:
Simple logic that can be described in a few sentences, eg "When a patient changes their address information in the EHR/EMR, update the coresponsding fields in the CRM",
Less than 100K messages per day; and
Implementation that does not require teams of developers and weeks-long Change Management and User Acceptance Testing procedures.
Is the platform completely self-serve? Or do we need in-house technical expertise?
Healthcare interopeability has come a long way in the last few years but we're still not at the point-and-click integration and workflow automation that other industries enjoy. The Whitebrick service is partly self-serve but a level of consultation and customization is unavoidable. No in-house technical expertise is required and we have plenty of experience working directly with end users.
Are there specific EHRs or CRMs/ERPs or messages/APIs you support?
No, we do our best to support all standards and available APIs. If the API is completely custom for your organization we may charge aditional development fees.
What if the integrating system/software is not HIPAA Compliant?
Our PHI De-identificaion engine can be used to hash PHI values with a secret key (salt) and map them accordingly to ensure all identifiers are masked.
What does the engagement process look like?
As part of providing a lightweight integration we pride ourselves on being nimble and using an agile approach to demonstrate results quickly. We kickoff with a call, agree on requirements, request documentation and credentials and then start iterating over dry runs of the solution until we're ready to go live. More formal requirements and solution design documentation can also be written up for an additional consultation fee.
Whitebrick vs Redox vs Mirth Connect
Many of the clients we consulting for use Redox and Mirth Connect, they're great products and we have a lot of experience working with them. Whitebrick does not directly compete with Redox and Mirth but fills an adjacent gap on the interoperability landscape.
Redox
Mirth

(+ FHIR extension)

Whitebrick
Hosted Service or Deploy Yourself?
Hosted Service
Deploy Yourself
Hosted Service
Target Users?
App Vendors integrating with Health Systems, large Clinics and Providers
Developers, Sys Admins
SMB Clinics and Providers, App Vendors
In-house Technical Expertise?
Required
Required
None Required
Approximate annual cost?
$90,000 + $12,000 per Connection
$20,000 + Config/Development
$3,600 + Customization/Development
---
For Developers
Our HL7v2 MLLP to JSON HTTPS gateway is a SaaS replacement for Mith Connect that is cheaper and easier than running Mirth on your own EC2 instance.
Unitl everyone upgrades to FHIR we're stuck with HL7v2, so rather than build out your own service to deal with ER7 (pipe-delimited) parsing and MLLP, use our gateway to work directly in JSON and HTTPS like it's 2022.
POST to our HTTPS endpoint and we'll convert the JSON payload to ER7 and deliver it to the specified MLLP endpoint.
Register your own HTTPS endpoint and when we receive a message on MLLP we'll convert it to JSON and POST it to you.
---
Demo
We are currently building-out our platform based on client requirements.
If you would like to find out more please don't hesitate to get in touch.